O! Andry wake up from the bed I made this morning. Hope he has a nice sleep in the bed I made. It brings me satisfaction like the first transaction is done in a new job.
I was plan to go picnic next to the temple, I was plan to go the shopping mall.....etc. I have too many plans but plan is plan, none of these has happened today. The picnic plan is gone, as I am so hungry to walk to the temple. The shopping plan is gone as I am so sleepy after lunch. I took a 4 hours nap, 2-6pm. Lazy Sue has a relax day. Awesome!
The dinner I cooked tonight, potato chicken rice with the movie, buckle list as my side dish.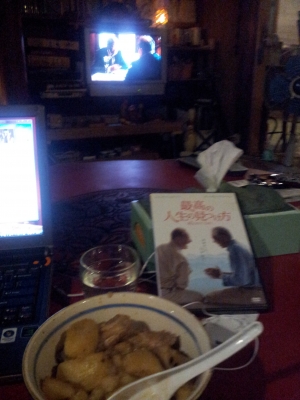 Satisfied Sue reporting the above when she is planning to go 7-11 buy herself an ice-cream as desert to conclude the day. Hope this time she can make this happen.