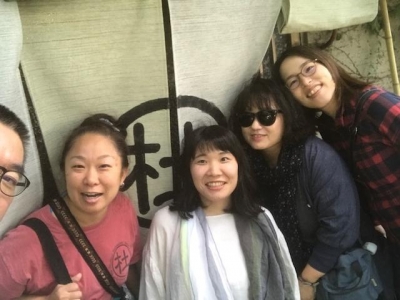 ぴよす!
杜の樹に置いてきた荷物の中に、丁シャツが1枚も入っていないことに気づいたハナコです。
来夏、丁シャツ持っていくのを忘れないようにしなければ。
9月24日は、いよいよ小樽の夏が終わった日。
そうです。私の旅立ちの日でした。
杜の樹に前夜宿泊してくださったナカムラユカリさんとアスカさん、そしてヘルパー仲間のミニちゃんと札幌まで出掛けられたので、
いつもの夏の終わりのように、寂しくて泣きたい気持ちにならなくて済みました。
今夏も、皆様に大変お世話になりました。
また、2まわりくらい大きくなれました。
これは、絶え間無く美味しいものを与えてくださった、マサさんとマユミさんのお力が大きいです。
因みに、小樽での最後の食事は、『みかん』の味噌ラーメンでした。
皆様、今夏も本当にありがとうございました!
また来夏、ももさんに私の存在を認識してもらうところから始めたいと思います。
来夏も皆様、よろしくお願いします!
hello! this is Hanako.
I noticed that I hadn't left any of my T-shirts at Morinoki.
I must not forget to bring them next summer.
September 24th was the day when the summer in Otaru finally ended.
yes. it was the day for my leaving.
I could go to Sapporo with Nakamura Yukari-san and Asuka-san who stayed at Morinoki the night before and my helper friend Mini-chan.
so I was lucky because I didn't feel lonely and want to cry as usual at the end of summer.
I got so much help and kindness from everybody relates Morinoki in this summer.
I could be the twice bigger person again.
this is because of Masa-san and Mayumi-san who had always given me delicious food.
as a side note, my last meal in Otaru was miso ramen noodle soup at the ramen noodle restaurant "Mikan".
thank all of you very much again in this summer!
I would like to be going to start by getting Momo-san to recognize my existence again next summer.
I will come back home, Morinoki, again next summer!