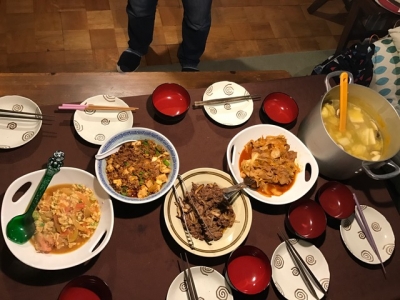 ぴよす!
毎日、お風呂掃除のときに、ゲジゲジを1匹外に出しているハナコです。
同じヤツが、毎日戻ってきているに違いありません。
9月20日は、たくさんのとても楽しいイベントがあって、まるでジェットコースターのような1日でした。
まず、バイト終わりのマユミさんをかっさらって、フレンチお姉様達と映画。
アド・アストラというこの日公開だった映画を観ました。
かなり宇宙酔いしました。
次に、スーパーマーケットで、マユミさんがセルフレジに初挑戦。
見事に使いこなすことができたので、これからは長く待つ必要がなくなりましたね。
そして、台湾から来た古くからの杜友ジョーさんが、とても豪華で美味しい台湾料理の晩餐を作ってくださいました。
楽しい宴で盛り上がった後、完全に油断していたところへ、さらに元杜の樹ヘルパーのナルさんがいらっしゃいました。
私の知らない昔の杜の樹のお話をいろいろ聞けて、とても面白かったです。
つくづく、杜の樹が愛されていることを実感した1日でした。
hello! this is Hanako.
I throw a house centipede away everyday while I'm cleaning the bathroom.
I think the same one must come back everyday.
on September 20th, it was like a roller coaster day because I had so many exiting events.
first, our lovely French ladies and I carried Mayumi-san away to a movie theatre after she finished her part time job.
we watched the movie "Ad Astra" which was released on that day.
I got space sick a lot.
next, Mayumi-san tried self checkout at a supermarket for the first time in her life.
she could use it very well so she doesn't have to wait longer anymore.
and then, an old Morinoki friend, Joe-san, from Taiwan cooked us gorgeous and delicious Taiwanese dinner.
after that nice party, we weren't completely aware but one of our very important old helpers, Naru-san, arrived at Morinoki.
it was so much funny to listen to the old stories about Morinoki which I don't know.
I deeply felt that Morinoki is loved by anyone so much.