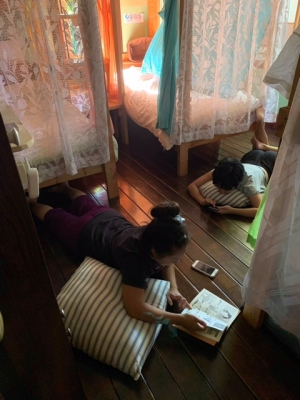 ぴよす!
マンガ『深夜食堂』を、1日1冊のペースで読み始めて、3日経ったハナコです。
21巻まであるのに、これでは今夏中に終わらない。。。
近頃、私が夏をつれてきたせいで暑いので、
杜の樹で一番涼しいと思われる場所、女性用ドミトリーの床の上で、
スルちゃん、ハグさんと共に、寝そべりながらマンガを読んでいます。
ひんやりとした木の床が心地よく、ついついうとうとしてしまいます。
この昼下がりの女子会は、杜の樹ヘルパーだけに許された贅沢な時間なのです。
hello! this is Hanako.
it's my 3rd day to read the comic series "Shinya-shokudo (means midnight restaurant)" 1 book per day.
there are 21 volumes, so that means I cannot finish reading in this summer oh no...
recently, it's warm in Otaru because I brought summer here again.
so Seulgi, Hug and I lay down on the wooden floor in the female dormitory room and read comics.
I always feel sleepy because the floor is cool and comfortable.
this afternoon girls' party is a luxurious time that only Morinoki girls are allowed.