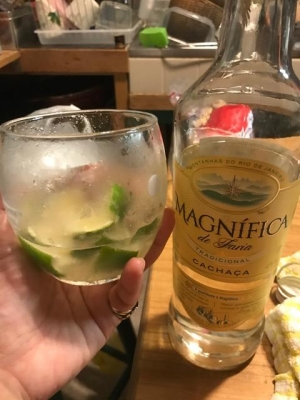 ぴよす!
小樽に本当に夏を連れてきたハナコです。
9月8日は、杜の樹で、フレンチお姉様方主催の『小さなパーティ』が行われました。
お二人は、ジュリアナさんの出身地ブラジルで過ごされることが多いそうで、
そのブラジルのカクテル『カイピリーニャ』を、本場のレシピで作っていただきました。
とても飲みやすくて、大変危険なカクテルで、
たった1度の『小さなパーティ』で、我々はカシャッサをほぼ1瓶空けてしまいました。
食べ物ももちろん充実していて、もちろん、みよしのの餃子3パックも食べましたよ。
とても楽しい、大規模な『小さなパーティ』でした!
hello! this is Hanako.
I've really brought summer to Otaru.
on September 8th, French ladies held "a small party" at Morinoki.
they often stay in Brazil where Juliana's from
so they made us a Brazilian cocktail "caipirinha" as the real Brazilian recipe.
it was so easy to be drunk, so that means it's pretty dangerous
and we almost finished a whole bottle of cachaça only for 1 "small party".
foods also had much varieties and of course, we had 3 packs of Miyoshino's dumplings.
it was a very nice big "small party"!