Salut ! Moi, c'est Chloé. J'ai 24 ans, je suis française, et je suis la nouvelle « helper » de Morinoki Hostel. Je suis au Japon avec le visa vacances travail, ce qui veut dire que je vis dans ce joli pays depuis déjà 8 mois, à travailler et voyager. Depuis mon arrivée, j'ai vécu à Osaka, Tokyo, Okinawa, Kumakogen, Fukuoka, Sapporo… Et maintenant, me voilà à Otaru !

Je suis arrivée hier, en fin d'après-midi. Comme c'est l'hiver, il faisait déjà nuit, alors je me suis directement dirigée vers l'auberge de jeunesse. J'ai été accueillie par Harada-san et Hug, son adorable corgi. Assis près du radiateur se trouvait aussi Momo, un petit chat à l'air endormi. Je suis ravie d'être entourée d'animaux. Momo me rappelle mon chat Pixel, qui est restée en France et me manque souvent. Et puis, j'ai toujours voulu un chien, alors Hug est un vrai bonheur !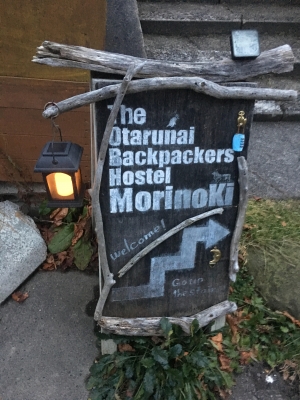 La maison aussi est superbe : confortable, chaleureuse, cosy… Très vite, je m'y sens bien. J'adore les mille et un mangas qui décorent la pièce principale. J'en connais assez peu, et j'espère que certains sont en anglais pour que je puisse les découvrir ! Il y a aussi énormément de films, on sent que Harada-san est un passionné de pop culture. J'adore ! Et puis, ce salon est plein de charme, avec ses jeux de société un peu partout, ses peluches, sa guitare… Il y a même un hamac dans un coin de la pièce, et, clou du spectacle : un kotatsu ! J'adore les kotatsu, et je n'en n'ai pas eu depuis tellement longtemps que je suis surexcitée à l'idée de me glisser en dessous pendant les longues journées d'hiver.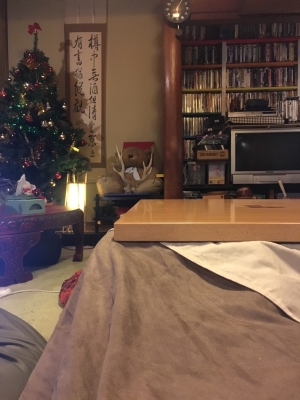 Outre la pièce principale, le reste du lieu est tout aussi charmant. Il y a une jolie terrasse, une grande cuisine dont je vais pouvoir profiter, une douche, une salle de bain, et plusieurs dortoirs. Je vais dormir dans l'un d'entre eux. Tout est très confortable et pratique, et je m'y sens bien.

Il faut dire que Harada-san participe à ce que l'endroit soit chaleureux. Il est souriant, gentil, et à l'écoute. Je rencontre également dans la soirée sa fille, ainsi que Mayumi-san, qui vit et travaille ici depuis 5 ans maintenant. Elle aussi est adorable, et parler avec elle est un plaisir. Elle essaie aussi d'apprendre un peu de français, et sa prononciation est incroyablement bonne ! J'adore l'entendre parcourir la maison en répétant « pluie, pluie, pluie » pour mémoriser ce nouveau mot.

La première soirée se passe donc bien, même si je me sens frustrée par mon japonais rouillé. Malgré ces huit mois au Japon, j'ai beaucoup été dans des environnements internationaux. Du coup, je parle assez bien pour discuter, mais j'ai du mal à engager la conversation et vraiment échanger comme je pourrais le faire en anglais. J'ai envie de poser plein de questions, mais je manque de vocabulaire, et ça m'agace. Je prends donc la bonne résolution de me remettre à travailler mon japonais tous les jours pour réussir à mieux interagir avec tout le monde.

Aujourd'hui, je tiens donc ma bonne résolution. Après une première matinée à me faire former au fonctionnement de l'auberge par Mayumi-san, je fais mon yoga quotidien, et j'enchaîne ensuite par 1h30 à travailler mon vocabulaire et mes expressions… Je trouve même une application sur mon téléphone qui me permet de faire des « flashcards », grâce auxquelles je vais pouvoir réviser et mémoriser un peu plus tous les jours. Pendant tout ce temps, Hug fait la sieste près de moi. Je l'adore.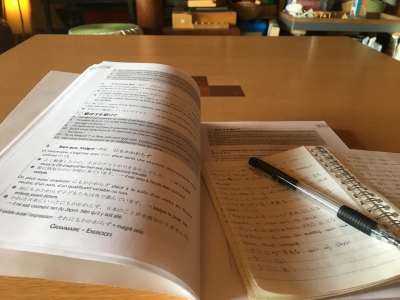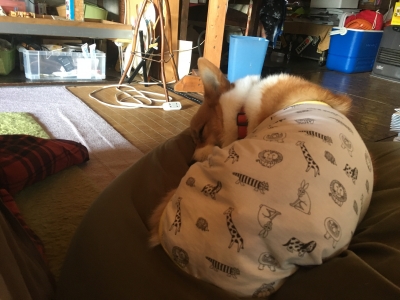 Puis, je pars faire un petit tour dans la ville, que j'ai envie de découvrir à la lumière du jour. En plus, par chance, il fait beau et chaud : c'est à peine si j'ai besoin du manteau. Je me balade au hasard, sans but particulier. J'aime bien ne pas avoir d'objectif pour découvrir une ville. Par chance, je tombe sur des rails très jolis, qui semblent être un point d'attraction touristique vu le nombre de personnes qui s'y prennent en photo.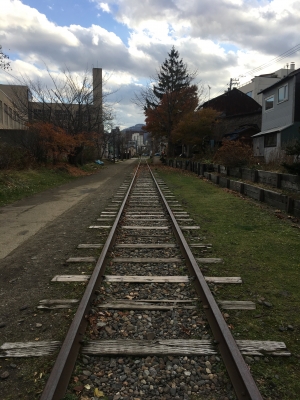 Otaru est une ville qui a un charme bien à elle : contrairement à beaucoup d'endroits que j'ai pu voir au Japon, on voit beaucoup de maisons différentes et colorées, ce que je trouve superbe.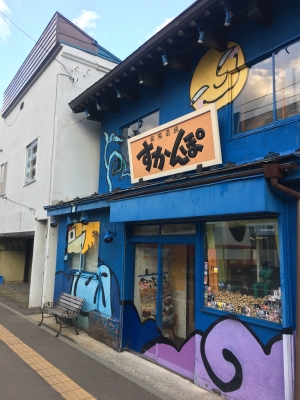 En continuant mon chemin, je tombe sur le port, et donc le canal d'Otaru. Je suis toujours attirée par les points d'eau naturelle, et celui-là ne fait visiblement pas exception à la règle. C'est un joli petit coin, et les noms de certains bateaux me font sourire.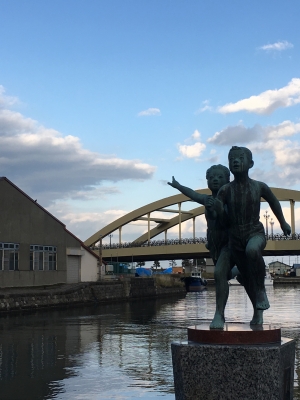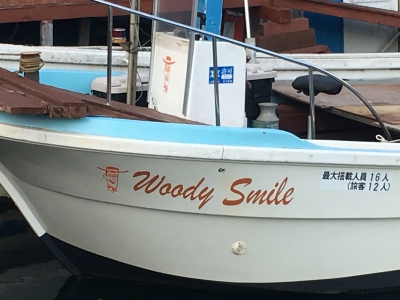 En continuant ma balade, je tombe sur l'office du tourisme et prends une carte de la ville. Je vois aussi beaucoup de restaurants alléchants que j'ai hâte de goûter. La ville a beaucoup d'attraits, comme la fabrication de verre, et j'ai vraiment très envie de découvrir tout ça. Ces dix jours de WHOOP promettent !
---

Hi! I'm Chloé, a French 24-year-old woman. I'm Morinoki Hostel's new helper for the next ten days. I've been in Japan for 8 months now, travelling and working thanks to the working holiday visa. Ever since I arrived, I've lived in Osaka, Tokyo, Okinawa, Kumakogen, Fukuoka, Sapporo… And now, here I am in Otaru!

I arrived yesterday, late afternoon. Since it's already winter, it was already dark, so I directly went to the hostel. Harada-san and Hug, his adorable corgi, welcomed me. Sitting near the heater was Momo, a small sleepy cat. I'm so happy to be surrounded by animals. Momo reminds me of Pixel, my cat who stayed in France and who I miss often. And I've always wanted a dog, so Hug's a real treat!

The house is beautiful, comfortable, warm, cozy… I feel at home very fast. I love the many manga that decorate the main room. I know very few of them, and I hope some of them are in English, so that I can discover them! There's also a lot of movies, which gives a feeling of Harada-san being passionate about pop culture. I love that! And this living room is full of charm, with its board games everywhere, its stuffed animals, its guitar… There's even a hammock in a corner and, finally, a kotatsu. I love kotatsu, and I haven't had one in so long that I'm very excited to slip under it during the coming long winter days.

The rest of the house is just as charming. There's a terrace, a huge kitchen that I can use, a shower, a bathroom, and several dormitories. I'm going to sleep in one of them. Everything's very comfortable and convenient, and I feel good there.

Harada-san also makes the place warm. He's smiling, nice, and attentive. I also meet his daughter, and Mayumi-san who's been living and working here for five years now. She's adorable as well, and talking to her is a pleasure too. She's also trying to learn a little bit of French too, and her pronunciation is amazing! I love hearing her walk around the house repeating the words she just learnt to memorize them.

The first evening goes really well, despite feeling frustrated by my rusty Japanese. Despite having been in Japan for eight months, I've been in a lot of international environments. So, I speak enough Japanese to speak, but it's hard for me to start a conversation and really exchange like I could in English. I want to ask a ton of questions, but I lack vocabulary and it annoys me. So, I decide to start working on my Japanese every day again, so that I can interact with everyone in the house.

So, today that's what I do. After being trained to know how the hostel works by Mayumi-san, I do my daily yoga, and then spend 1h30 working on my vocabulary and expressions. I even find an app on my phone that allows me to create my own flashcards, thanks to which I can study and memorize a little bit more every day. Hug takes a nap next to me the entire time. I love him.

Then, I go for a walk around the city, which I want to discover in daylight. Moreover, luckily, the weather's warm and beautiful. I barely even need my coat. I roam the town randomly, without a goal. I really like not having a purpose in order to discover a city. Luckily, I find some beautiful railways, which seem to be a tourist attraction according to the number of people who take pictures of themselves there.

Otaru is a city with a lot of charm. Unlike a lot of places that I've been to in Japan, there are a lot of different, colorful houses, which I find gorgeous.

Later, I end up on the port, and thus Otaru canal. I'm always attracted to natural sources of water such as this one. It's lovely, and the names of some boats put a smile on my face.

Before coming back home, I stumble upon the tourist office and take a city map. I also see a lot of tasty-looking restaurants, and I'm excited to try them. The city has a lot of appeal, such as glass making, and I'm looking forward to discover it all. The next 10 days of WHOOP seem exciting!

---

今日!私はクロエです。24歳のフランス人です。次の10日の時、森の木ホステルのヘルパーです。ワーキングホリデーのおかげで、八月ぐらい日本にいます。この時に、大阪と東京と沖縄と久万高原と福岡と札幌に住んでいました。それで、今は小樽です。

昨日、五時ぐらい小樽に来ました。今は冬ですので、夜見たかったです。ですから、すぐにホステルに行きました。原田さんとハグと言う可愛いコルギが私に迎えました。ストブの近くにももと言う眠い猫がいます。動物がいますので、めっちゃ嬉しいです。ももちゃんが私の恋しい猫が思い浮かべります。そして、犬がずっと欲しかったですのでハグちゃんは幸せです。

家は嫌いとゆったりとほんわくです。リビングに漫画が一杯。少しだけ知りますので、もしも英語の漫画があったら、絶対に読みたいです。映画も一杯あります。原田さんはポップカルチャーが好きと思います。凄いですね。このリビングにボードゲームと編みぐるみとギターがありますので、魅力的です。そして隅にハンモックがあるし、真ん中にこたつがあります。こたつがめっちゃ好きですよ。長い冬の日楽しみです。

家の全部も魅力的です。テラスと大きなキチンとシャワとお風呂ともろドミトリーがあります。全部は心地よいと便利です。気持ちがいいです。

そして、このところの温覚の龍は原田さんです。にこやかと優しいと気の利く人です。原田さんの娘と真弓さんにも会いました。真弓さんも優しいと親しみやすい人です。そして、真弓さんはフランス語をちょっと勉強したくて、発音がすごいです。時々新しい言葉を習いたいので、家に歩く時言葉を折れかえます。これが大好きです。

昨日はすごかったです。でも私のさびさび日本語のせいで、隔靴掻痒になりました。日本語を話せますが、会話を始める事は難しいです。本当のダイアログしたいですが英語で一番いいです。質問が一杯ありますが単語が事欠きます。悔しいですので毎日日本語を勉強したいです。みんなと話したいです。

ですから、今日はそうします。真弓さんが私に仕込むの後で、私の毎日のヨガして、一時半ぐらい日本語を勉強します。この時にハグちゃんは私の近くに寝ます。この犬大好きです。

後で、街に行きます。天気はいいと暑いです。ラッキーですね。あてもないで歩きます。新しい待ちの始めにこれが一番好きです。線路に行き着きます。写真を取る人が多いので、人気ところですと思います。小樽はめっちゃ綺麗な街です。家がさいと別様です。豪華です。後で、港に行き着きます。運河は綺麗です。色々なボートの名前のおかげで微笑ます。

ホステルに帰る前に観光協会に行き着きますので、地図を受け取ります。一杯美味しそうレストランを見てますので、全部食べたいです。小樽は興味ぞそそると思います。次の10日楽しみ!