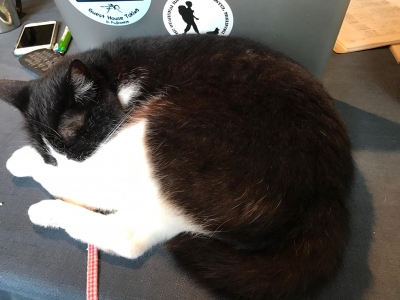 ぴよす!
お客さんが置いていった韓国のシャンプーで髪を洗ったら、
ものすごい朝鮮人参の香りに包まれているハナコです。

10日はほぼ1日中雨でした。
こんな日は何もできない私ですが、皆様のおかげで幸せになれました。
まず、我らがケイコさんが、杜の樹に帰ってこられました!!
このケイコさんは私の母ではなく、マサさんの奥様です。
灼熱の高知から、無事ご帰還されたぜよ!
お久しぶりでうれしいです。
そして、杜の友タツヤさんが、手術を終えて、病院から戻ってこられました。
まだもちろん本調子ではないようですが、これからどんどんよくなっていくはずです。
よかったよかった。
私も明日こそは、能動的に活動しようと思います。

hello! this is Hanako.
I used Korean shampoo that a guest left.
then my hair got soooooo much smell of ginseng.

on the 10th, it was raining for almost a whole day.
I cannot do anything on such a day but my friends made happy.
first, our lovely Keiko-san came back to Morinoki!!
this Keiko-san is not my mom but Masa-san's wife.
she came back safely from burning Kochi!
I'm happy to see her again after a long time.
next, Tatsuya-san, our Morinoki friend, came back from a hospital after getting a surgery.
he's of course not completely recovered but must be getting better and better.
I was relieved and feel happy.
I decided to be going to do something actively, definitely tomorrow.