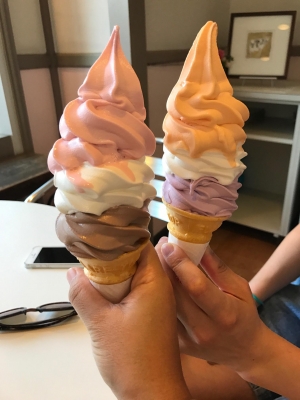 ぴよす!
いつでも世界平和を願っているハナコです。

6日は夕方から、杜の樹娘アヤノさんとデートしました。
まずはミルクプラントでソフトクリームを食べ、
そして地元の飲み屋『角打ちセンターたかの』でビールぐびぐび。
それから杜の樹へ帰ってきて、マユミさん製作の激辛ナベを食べるという、順番がおかしなフルコースでした。
実は、アヤノさんとデートしたのは、今日が初めてだったんですよ!
とても楽しかったので、次回も期待しております。

hello! this is Hanako.
I always hope for world peace.

in the afternoon on the 6th, I had a date with one of the Morinoki girls, Ayano-san.
first, we went to Milk Plant to have icecream.
and then, a local pub, "Takano" to drink some beer.
after that, we went back to Morinoki and ate very spicy hot pot cooked by Mayumi-san.
it was a full-course date in a bit strange order.
actually, it was my first time to date with Ayano-san!
it was so much fun for me so I'm already longing for the next date.