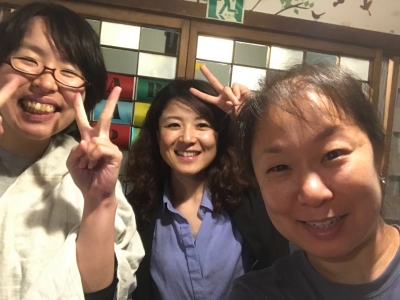 ぴよす!
ナカムラユカリさんには「ビビさん」と呼ばれているハナコです。

実は既に今年2回目のナカムラユカリ祭 in小樽が開催されました。
ステキ女子タエさんも合流して、これまたステキ女子マユミさんが作ってくださったチキンタツタを食べる晩御飯祭でした。
お友達と再会できるのはうれしいですね。
そしてマユミごはんもうれしいですね。
ナカムラユカリ祭は、いつもうれしいのです!

hello! this is Hanako.
I'm called "Bibi-san" by Nakamura Yukari-san.

Nakamura Yukari festival in Otaru was held.
it's actually already the 2nd time in this year.
a brilliant girl, Tae-san, also joined and we had the special dinner cooked by Mayumi-san, also a pretty sweet girl.
it's so happy for me to see my friends again.
also so happy to have Mayumi-san's meals.
so Nakamura Yukari festival is always happy to me!