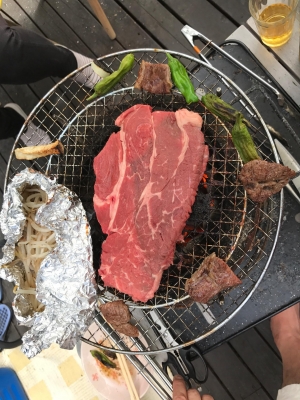 ぴよす!
ぼやけた味が好きなハナコです。

昨日は雨の予報だったのに、気持ちよく晴れたので、
お昼に杜の樹でバーベキゥをしました。
いろんなお肉を焼きまくって、最後にはほっけまで焼きました。
結局、計4時間も美味しいものを食べ続けました。
いちばんバーベキゥをしたがっていたヘビンちゃんがいないときに。。。
ヘビンちゃん、また戻ってきてくださいね!

hello! this is Hanako.
I like vague tasted foods.

the weather forecast said, it would rain yesterday but became really fine
so we had bbq lunch at Morinoki
we barbecued many kinds of meat and at last, did Hokke, a kind of fish, too.
after all, we kept eating delicious foods for 4 hours.
Hyebin-chan who wanted to bbq the most was not here though...
come back again, Hyebin-chan!