On my second day I woke up a bit before 8h, ate Mayumi's breakfast, talked with Mayumi and Masa and then did my first shift: beds, toilets, shower and vacuum. While vacuuming, Hug came a few times and bit the vacuum! I think she doesn't like it. Momo just looked at it with big eyes. She's probably too scared to do anything.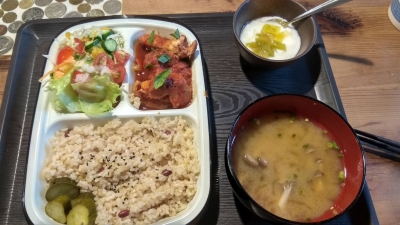 Somehow, at home when I'm cleaning, it's just a chore, but when I'm traveling, cleaning can be meditative. I wonder if I can keep that feeling when I go back to Canada? Hum...probably not...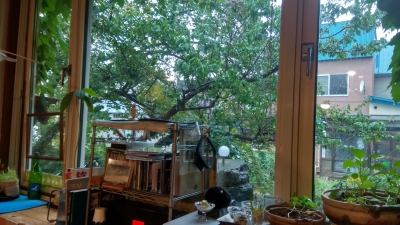 I have a friend from America who's doing a work exchange in a farm close to Otaru and we agreed to meet that day somewhere in Otaru. So a bit after I finished work, she sent me a message about an exhibition and said we could meet there in half an hour. The exhibition was in a museum, the Otaru Art Base, which is not too far from the guesthouse (I have the impression everything is "not too far" around here). So I finished my tea, washed the dishes and went out a bit in a hurry, picking up my umbrella on the way as it had been raining since the morning, and managed to find the museum pretty quickly (with the help of Google maps). I went inside, happy to have arrived just around the right time. Or so I thought.
My friend had said the exhibition cost 500 yen but when I arrived there, the exhibition was 700 yen. "She must have made a mistake", I thought. And then, when I went in and didn't see her, I thought "She will probably arrive soon". But after a while, still not seeing her, I checked my messages on my cellphone and then realized the exhibition she had suggested was about ukiyo-e. I was at the stained glass museum...
I didn't know but the Otaru Art Base comprises four different buildings with each holding different exhibitions. So we were pretty close to each other, but not exactly at the same place. After realizing the mistake, we decided to meet after the museum. When we finally met, about 2 hours later, we went to a local restaurant to have lunch (a bowl of rice with mayo salmon) and laughed about the whole story. This is the typical situation that only happens when you're traveling. But thanks to modern technology, we had quickly solved the situation! After lunch, she had to work again in the evening so she went back to the farm. It was short but fun!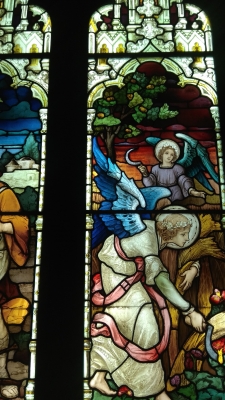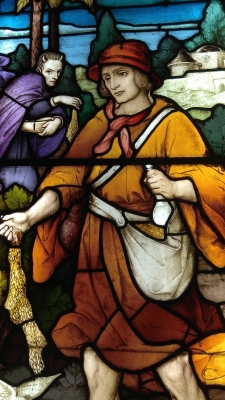 This made me realize that when your mind is set on an idea, it will do anything to make sense of things. Even if they don't make sense, it will find a way to make them coherent. In my case, I was so sure I was at the right place (and in a way I was), that I managed to find an explanation for all the incoherences that I found. Sometimes it's good to question the initial thought, that's what I learned that day!