Estoy en Otaru. Había estado en otros lugares con nieve, pero nunca en un lugar en el que no parara de nevar.
Creo que hacia -10 grados cuando bajé del autobús, no se cuál era la sensación térmica o la intensidad de los vientos (no entiendo muy bien de eso), pero sí que hacia un frío que me quemaba las manos.
Según Google maps me bajé del autobús más allá de donde debía, así que tuve que caminar un poco más. Google es mi mejor amigo en el viaje, aunque a veces me dice que hay caminos donde la nieve no me deja continuar 😅😅.
Finalmente llegué la MorinoKi. El frío rápidamente se convirtió en soportable, no sólo porque la casa estaba calientita sino porque todos en MorinoKi son muy amables y cálidos ... bueno, aunque Momo -gato- es un poco esquivo.
Empiezo a disfrutar mi estancia! 🙂
------
I'm in Otaru. I have been in other cities and seen snow, however I've never been in a cities where doesn't stop to snow.
I think it was -10C when I got off the bus. I do not know what was the thermal sensation or the intensity of the winds (I don't understand about that) however I could feel my hands freezing.
Google maps showed me, I got off in the wrong point, so I had to walk more. In this trip Google maps become in my best friend, even if it shows me roads that I can't cross because snow. 😅😅
Finally, I arrived to MorinoKi. The cold quickly became bearable, not only because the house was warm but because everyone at MorinoKi is very kind and warm ... well, although Momo -gato- is a bit elusive.
Im enjoying to be here. ☺️
------
小樽にいます。私は雪を見たことがあります、でも ここに 雪が ぜんぜん やみません。
来たとき -10C でした。私は20分くらい歩きました。とっても寒かったです。
グーグルは私の友だちです, でもときどき遺失です。
MorinoKiに来ました。スタッフはいい人ですから、MorinoKi はあたたかいです。
私はたのしんでいます。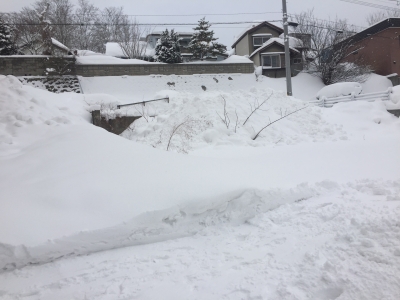 Enviado desde mi iTati