Last night in otaru(2018.01.18)
Today is my last day in otaru, in MorinoKi. Oyeon and I went to the 水天宫, it was peaceful and we could see the whole city. The view I saw was more beautiful than tengu mountain I thought !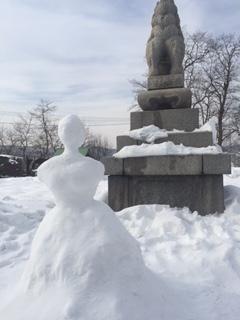 ( a artwork with no signature stood on the square, we took lots of funny pictures with her😢)
And then we went to 若鸡时代🐔, the fry chicken. This was my second time to eat it. I like this! When we finished our lunch,
Oyeon couldn't find her shoes! There was a pink one. Someone must take the wrong shoes. Oyeon is dumbfounding!😓
Oyeon accompanied me in the afternoon to buy the music box.
A very lazy day!
Masa ordered the pizza 🍕, bought beers 🍻 for oyeon and mayumi, Carbonated drink for me. Five days later is my birthday. Masa given me a gift. So sweet! Thank you for the goodbye dinner.
A really nice experience as a helper in MorinoKi. Hope everyone can be happiness! If encounter difficulties, also be able to overcome.
Hope masa can go to bed early! mayumi can have more time to do the things she like! Hope oyeon all the best one year in hokkaida!
Best wishes to Masa, mayumi and oyeon.
Still keep on walking in 2018!
加油
Fighting