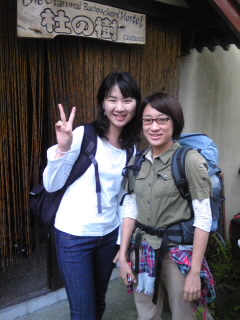 It`s the last night in Morinoki.
Soooo sad to leave here.
I got great memories that I could meet だくさん travelers, communicate with them.
It was special holiday for me, I cannot forget this ever...
After going back home, I am going to learn Japanese.
If I could speak Japanese, It would be better to talk more people.
冬に、I will come again.
Then, let`s talk in Japanese.
Masa san, Thanks a lot for your warm hospitality.
どても、 たのうしかったです。 ありがとう ございます。
I will miss you、also keiko san, Peg and Log.
Take care.
じゃ、 まだ。