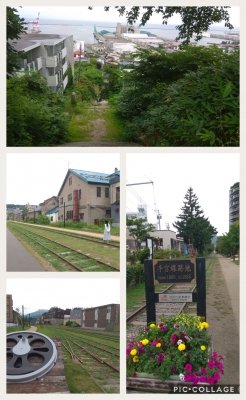 Everyday while all the routine in Morinoki is finished, I always go to
Suitengu, a temple near Morinoki, before I go through my travel
schedule. Because the location is the highest place near Otaru Port, I
can enjoy a great view of Otaru there. If the weather is clear, every
movement of the city can be clearly captured. Looking down from
Suitengu, it's seems that my entire soul is being purified by the
beautiful scene of Otaru. By the way, I can see two railroad crossing
Otaru, which is the Hakodate Honsen line and the Temiya line. Both of
the railroads were constructed to deliver admiralty coal and Hokkaido
agricultures; however, due to the declining international trading,
logistics and coal delivery, the Temiya line was forced to close since
1985. Therefore, I walk along the reminded Temiya line to feel it's
glorious history. Unfortunately, the reminding Temiya line is too long
and inconvenient that few tourist visit here. What a pity!