Hi guys,
I'm Ann and my friend is Namphueng. We're from Thailand and this is our first time in Hokkaido. We will be travelling in Japan for 2 weeks and we are so exicted to be here for 5 days.
We came to Otaru last night and We were lucky to get to see a Shrine festival nearby the hostel. It's very interesting and fun!
When we came back to the hostel, Masa and Mayumi had prepared cakes for us as a welcoming dessert, and it tasted so good! We then had some chattings with three Taiwanese girls, Emi, Yong Hui Lu, and Jun Jia Liu.
Today, Mayumi made breakfast for us, which is very nice of her. Yong Hui Lu and Jun Jia Liu waited for Namphueng and I to go get melon ice-cream with them, it turned to be very tasty! Then we headed to the Otaru beer reataurant to have lunch together, also with another Chinses girl, Meander Sun. The foods and beer were so delicious and at a readonable price. After that, Namphueng and I went to see some places in Otaru and tried some more ice-creams. "Otaru is a very beautiful city with lovely weather and delicious things to eat."
Then we headed back to the hostel because the weather was quite cold for our few layers of clothes.
We met some new guests from Tokyo, New Zealand, Australia, had some chats, and headed to the Shrine festival together and had dinner at a ramen restaurant.
Today was so much fun in Otaru, we had a chance to meet many people and got to see so many new things.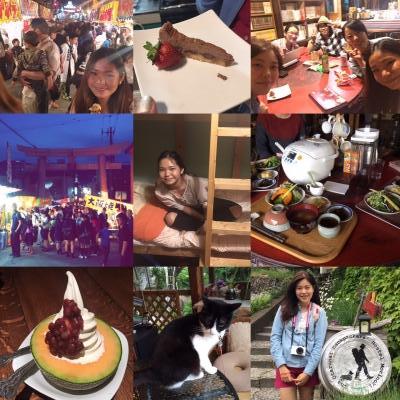 Good night!
Ann & Namphueng