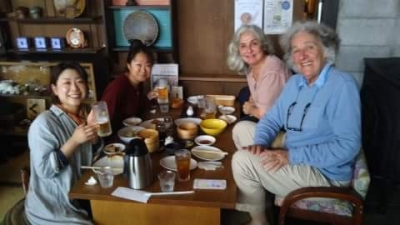 ぴよす!
今まででいちばん答えに困った質問のうちのひとつは、
『ぐりとぐら、どっちが好き?』
だったハナコです。
未だに答えを考えています。。。
19日の日曜は、長期滞在のフレンチお姉様お二人に、
銭函にある『あおぞら銭函3丁め』に連れていっていただきました。
お二人は既に1度行ったことがあるので、初心者のマユミさんと私に、
注文の仕方や美味しいメニューを教えてくださって、
すっかり私たちが案内してもらってる様子に、お店の方々が少々戸惑っていました。
もちろん、お店の名物メニューのジャンボ焼餃子はとても美味しく、ビールに最高に合いました。
そして意外にも、餃子屋さんなのに、アヒャンさん大推薦のレアチーズケーキがとても美味しかったです。
とても幸せな、日曜の女子会でした!
hello! this is Hanako.
one of the most difficult questions to answer in my life is
"which do you prefer, Guri or Gura?"
I'm still trying to find my answer...
on Sunday the 19th, Mayumi-san and I were treated at a dumpling restaurant "Aozora Zenibako 3" by french ladies staying at Morinoki for long.
2 ladies already had been the restaurant once
but it was the first time for Mayumi-san and me
so they told us how to order and which dishes to be recommended by them.
this situation made restaurant staffs a bit confused.
of course, big fried dumplings as the speciality of the restaurant were so delicious and went great with beer.
and it was unexpected but unbaked cheesecake highly recommended by Ariana-san was super delicious
there's a dumpling restaurant though.
it was a very happy girls' party on Sunday!