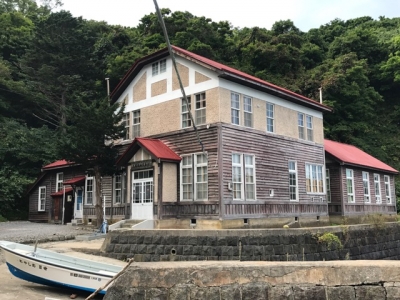 ぴよす!
杜の樹生活が あと1週間しかないことに気づいたハナコです。
ああどうしましょうどうしましょう。。。
9月18日は、朝からナカムラユカリ祭でした。
まゆモ(マユミさんの朝ごはん)とヘルパー仕事の後、私のリクエストにより、ユカリさんが真っ赤なナカムラユカリ号で、忍路に連れていってくださいました。
なぜ忍路をリクエストしたのかというと、これには長い物語があるのです。
5年以上も前、私が初めて杜の樹にお客としてきたとき、街の古い建物が好きだと話した私に、マサさんが『小樽たてもの散歩』という、とても面白い本をくださいました。
その本には、小樽中のステキな建物がたくさん載っていて、
私は2日間の滞在中に、本に載っている小樽市街地の建物81箇所を、駆けずり回って全て見にいきました。
しかしそのときは、本に載ってはいるものの、市街地からは離れたところにある祝津と忍路には行けずじまいでした。
その後の数年で、祝津には行けましたが、忍路を訪れる機会がなく、今まで生きてきてしまいました。
でも遂に、遂に遂に、忍路へ連れていってもらえるチャンスが巡ってきたのです。
目指したのはただ2つ『北海道大学 忍路臨海実験所』と、『津古丹稲荷神社』。
これにて『小樽たてもの散歩』に載っていた建物はコンプでき、5年以上越しの夢が叶いました!
長く生きているといいことがありますね。
ナカムラユカリさんとお友達で、本当によかったです。
(写真は『北海道大学 忍路臨海実験所』です。)
hello! this is Hanako.
I noticed that I can stay at Morinoki only 1 more week.
oh how can I do, how can I do...??
on September 18th, Nakamura Yukari festival had been held since morning.
after Mayu-mo (breakfast cooked by Mayumi-san), I cleaned rooms as a helper,
Yukari-san took me to Oshoro by her nice red car as my request.
there's a long story why I requested to go to Oshoro.
more than 5 years ago, when I came to Morinoki for the first time as a guest,
I told Masa-san that I like old buildings in town.
so Masa-san gave me a very interesting book "building strolls in Otaru" which has so many nice buildings on it.
during my 2 days staying in Otaru, I tried so hard to visit all 81 buildings in the town area of Otaru on that book and I made it.
but at that time, I couldn't visit Shukutsu and Oshoro because these 2 palaces are far from the town area of Otaru.
in the next few years, I could go to Shukutsu however there's no opportunity to go to Oshoro until now.
but finally, finally finally, I could get a chance to go to Oshoro.
I had only 2 aims "Oshoro marine station of Hokkaido university" and "Tsukotan-inari shrine" to go.
and then, I finally could visit all buildings on the book and my mission complete.
my dream came true after more than 5 years!
lucky things happen while I live long.
I'm so happy to have Nakamura Yukari-san as my friend!
(the picture is "Oshoro marine station of Hokkaido university".)