Hello to everybody out there,
my name is Anne, 26 years old, from Munich in Germany, and i am on my worldtrip since November 2013. After i fell in love in Japan on a visit in march, i decided to come back after a short trip to Korea and stay for a longer term. Luckily, there a places like Morinoki Hostel which offer free accommodation in exchange for a couple of hours per day. In a quite expensive country like Japan, that saves you from bursting into tears every time you check your bank account.
After spending three weeks in wonderful Korea and two days in Sapporo, i finally arrived in Otaru on 14 May at 9.30 in the morning by train, heading for Morinoki Backpackers Hostel. Very easy to find from Minami-Otaru-Station, maybe 10 minutes walk.
Everybody - incl. cat and dog - gave me a warmly welcome, showing me around the place. Let's face it: this place feels like anything, but not like an ordinary "hostel". I found the most japanese guesthouses i stayed in general cozy, but this one belongs to my favourite ones (and i don't write that because i feel that i have to).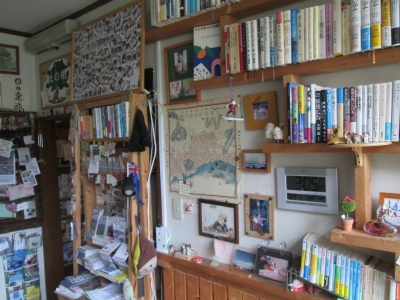 Morinoki Hostel
No work for me at this day (phweeee...), so i had enough time for a stroll through Otaru. Weather was not too bad, but a little bit more sunshine would have been great,though. My impressions: many schoolkids in the streets. Expensive ice cream ;-) Shops selling glass souvenirs. "Marine" feeling because of the harbour and the boats and small ships (in this order).
I walked through the streets and along the famous canal, ending up in Otaru Museum and trying to decode the Japanese-only-displays ;-) Because i had bought a combi-ticket, i also visited the more central Otaru annex Museum, which has some interesting displays of the flora and fauna of Hokkaido and the ancestors (speaking of some million years ago) in this area (again Japanese only display). You can try to "lit up" fire by hand like they used to make in that time, which is very hard work! You have to roll the metal stick so quickly between your hands that the temperature reaches 440 degree celcius, the point where the fire is supposed to lit. Amusing to watch the visitors trying so hard ;-)
Unfortunately it started to rain once i was out again, so i headed quickly for the supermarket (anyone in need for a 4-litre-whiskey-bottle???) to buy some food for the next days and got home again.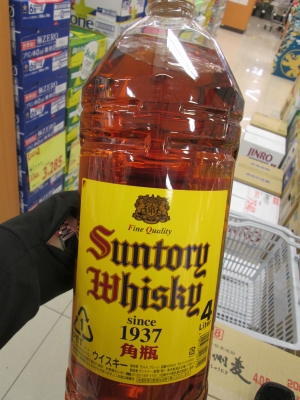 If you feel like partying, i recommend this here ;-)
When Masa was asking me wether i like beer because there's a beer party going on tonight, i was expecting anything, but not a oktoberfestlike Braeustueberl with Japanese people cheering up "Oans, zwoa, g'suffa!" (which means "one, two, drink" in german with bavarian accent). I live in Munich, home of the Oktoberfest, so i can say that this place is a good substitute for people like me who miss their hometown from time to time ;-) But nothing comes close to the REAL Oktoberfest of course (a word only foreigners use by the way, the bavarian people call it "Wiesn").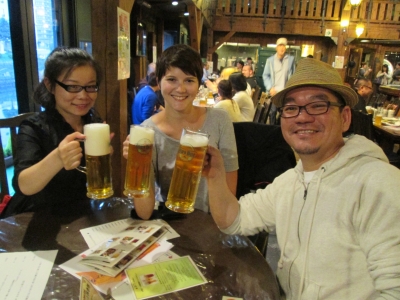 Prost!!!
Anyway, we had a great time there with "all-you-can-drink", delicious food and traditional bavarian music playing in the background. A highly recommandable place to go out for a drink in Otaru, and the Otaru beer tastes really good (the brewing master is from Germany and lives in Otaru for 20 years, a nice guy!).
To my very big suprise, we all made it out of bed the following morning quite early, about 7.30. After amusement comes work, so i i did my part that the place keeps looking tidy - cleaning restrooms, dorms, floor, outside and so on. Think everybody knows how to clean from home, so it is work i am used to.
Plan for the next days: visiting onsen and making daytrips to other nice places in this area. Looking forward to it!
Keep you updated!
Greets from Otaru
Anne